I can't even begin to express what an amazing job Liliana did at my wedding! From the beginning, she was so responsive, always getting back to me within a day or two. She listened to what I wanted, yet was great about telling me if she thought something else might be better. At the trial, she not only did my full face of
makeup, but tried two different hairdos so I could pick which one I liked better. And, since I had a little bit of a drive, she even gave me baklava when I arrived so I wouldn't be too hungry! After the trial, when I sent pics to my family and friends, they were all so impressed that they wanted her to style them as well. And even though I kept adding more people to her to-do list, she accommodated everyone. As the wedding date approached, she sent me a detailed timeline of who would be styled at what time, so that everyone knew what time they needed to be present. She arrived on time, bringing everything, and worked so quickly yet well. She had to handle a variety of hair types, face types, and personalities, and she did it beautifully. She is AMAZING at handling monolid makeup and styling stubborn Asian hair of all lengths and textures. Plus, her pricing is incredibly reasonable! At the wedding, nothing moved. Even though several of us, including myself, cried and danced violently all night, everything stayed put, and I have never felt more beautiful. If you are considering Liliana, DO IT! SHE IS AWESOME!
Liliana was punctual, organized and fun! She made all of my bridal party feel comfortable and beautiful! The whole process was easy from start to finish and she dealt with my crazy schedule with ease. Thank you so much Liliana!
Liliana and her team were amazing and very fun! They did a great job and were really good about listening to all of our requests about hair and makeup. All of the girls makeup and hair turned out beautifully, and if anyone was unsatisfied they made sure to fix it. I would definitely recommend using her for any event!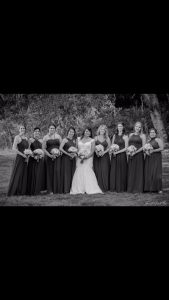 Brianne U.
Liliana completed my hair trial for my wedding and also did my hair along with my bridal party for the day-of. She worked so efficiently and understanding what look I wanted-runway, high fashion-came so easily to her! She was able to work with many different hair accessories, and ultimately style around a few indecisive bridemaids to create looks that suited them perfectly. Liliana is so accessbile, answering all messages and texts quickly-she even took on a last minute bridal party member that decided she needed hair done too the day before! She is prompt, open minded, and so proffessional-I highly recommend her all around 5 stars! (Thank you again Liliana, my hair held perfectly all day and never felt uncomfortable or sore-you did an amazing job!)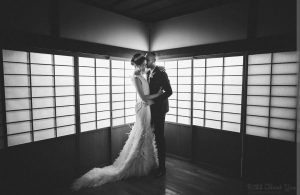 Liliana was incredible to work with. My wife and I look very different with very different hair and we both got our hair and makeup done for our wedding this September – we were so happy with how we looked and we felt relaxed on our big day knowing we were in capable hands. Liliana had us over at her nice in-home studio the week of the wedding to do a trial run. She did a great job at our trial run but she did an even better job of listening to our feedback and perfecting her approach for our actual wedding day- were she came to our hotel with all her gear and an assistant and did hair and makeup for us as well as 6 other family members! We cannot stress enough how important it Ian to do a trial run. It just took out all the anxiety and guesswork on the day of – we knew we were going to look great. So, yes, hire Liliana right away! Her quality of work is wonderful, her pricing is very affordable (considering her quality of work) and she has a warm enjoyable personality. You will feel great working with her!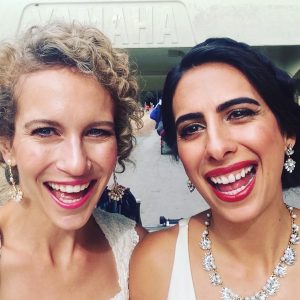 Liz G.
I highly recommend Liliana! From our first conversation to our last, she was very flexible, professional and friendly. She really listened to what I envisioned and easily adapted to changes. Her and her assistant were prompt on the wedding day, and my whole bridal party thought they were great to work with and loved their looks! I couldn't have been more pleased with my hair and makeup – I felt beautiful.
Liliana was great! She did my hair as well as 6 others including bridesmaids, MOB & MOG for our wedding. She brought an assistant to help with prepping the girls and Liliana was the lead hairstylist. She got everyone done on time, and we had a tight timeframe. Everyone loved their hair and looked great all day! I met her for a trial hair styling at her home studio and she was wonderful to work with! Thank you so much for all your hard work! Everyone looked great for the wedding!
If you have a special occasion and you want your makeup to bring out your best features and the result is you look and feel beautiful, then you want to have Liliana do your makeup. I am Asian, over 40, and she made me look young, fresh, and dewy. Liliana is an exceptional makeup artist and I would use her again. Lilian also did the makeup for my sister who wanted a smoky and sultry look, and Liliana accomplished this to perfection. Liliana choose the right foundation color, used eyeshadow colors that made my eyes look gorgeous, and knew how to contour my face. Result was perfection. I cannot say enough great things about the results. The occasion was my birthday party and I decided to have my makeup professionally done since I am a bit challenged when it comes to putting on eyelashes. I also wanted a natural and dewy finish. Also as part of the birthday celebration, I offered to my female guests a makeup refresh including eyelashes. It was a nice and fun way to start a birthday party. Liliana was professional, knew what she was doing, listened to what I wanted, and is so sweet. She did full makeup on my sister and I and makeup refresh and eyelashes on 8 female guests. The results were fantastic. And Liliana is so sweet and nice. I have recommended Liliana to my friends and would use her again.
Liliana did the hair for myself and 5 other women on my wedding day. She was amazing, and she made the whole process go very smoothly. She came to my hotel, and helped us all navigate the process of wedding hair on the day of very smoothly. I was so happy with how my hair turned out, and so were my bridesmaids and moms. Thank you, Liliana, for helping us all look beautiful and confident!
Lori T.
Liliana did hair for me and my Matron of Honor for my 8/26 wedding. She was fantastic from the trial through t the day of. I already loved the trial hair, but she made a few small tweaks on my wedding day that made it even more perfect. There was another person at our house doing makeup, and they got along really well, which was a bonus. Liliana is super sweet, easy to communicate with, prompt, and very talented. We both loved our hairstyles and received so many compliments I couldn't even count. I can't recommend Liliana highly enough!!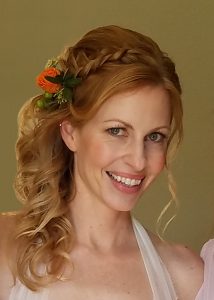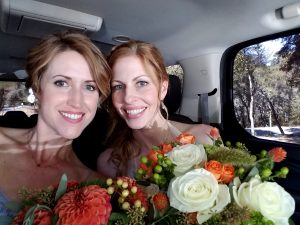 Liliana is so great at what she does and is truly an artist! She took her time with the hair and makeup trial to learn exactly what I was wanting. Then, she was very responsive to the feedback I had in order to make adjustments so it would be just right for the big day! She is very professional, punctual, and accommodating! I had a morning wedding and wanted to do pictures on the beach before it, and she was totally willing to start working on my hair and makeup super early. Her work made me feel gorgeous on my big day, while still feeling like I looked like myself. I don't wear heavy or dramatic makeup very often, and Liliana found just the right balance I needed. Thanks Liliana for helping to make my big day so special!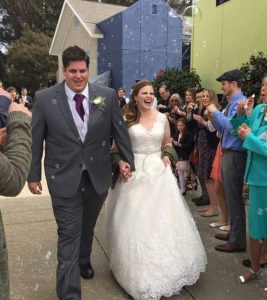 So fun and amazing! She does beautiful work and is really fun and easy to be around. We are so happy with how all our hair and make up turned out!
I had a truly wonderful experience during the trial and on the day of my wedding! They were so flexible and did a beautiful job!
Liliana was wonderful! She asked questions, and made suggestions to assure my satisfaction. Very happy with the results.
Lilliana did a beautiful job on our makeup for my son's wedding. Several people gave complements. She also is a very delightful person .
Erin B.
I booked her for my wedding last minute since my original hair stylist cancelled on my three week before the big date. I am really happy that I changed stylists, not only was she friendly and professional but she made our hair look amazing! It lasted all night and several compliments through out the night. If you are smart, book with lilianbeauty.
Annie N.
Liliana was very attentive to what I wanted and made sure that I was happy each step of the way. She does a great job and is very pleasant to work with.
Great experience with liliana. She know exactly what I was looking for and did a great job. Small touch up might be needed, but in general, The hair style and makeup can last a whole day from 11am to 10 pm! Highly recommended!